The Australian Web Awards (AWA) just closed nominations for 2023, and we can't wait to see the websites created nationwide this year. You can find our submissions for this year's awards below. Wish us luck 🤞
Nomination: Moodle
Sector: Education
Nominated in: Education Category, Enterprise Category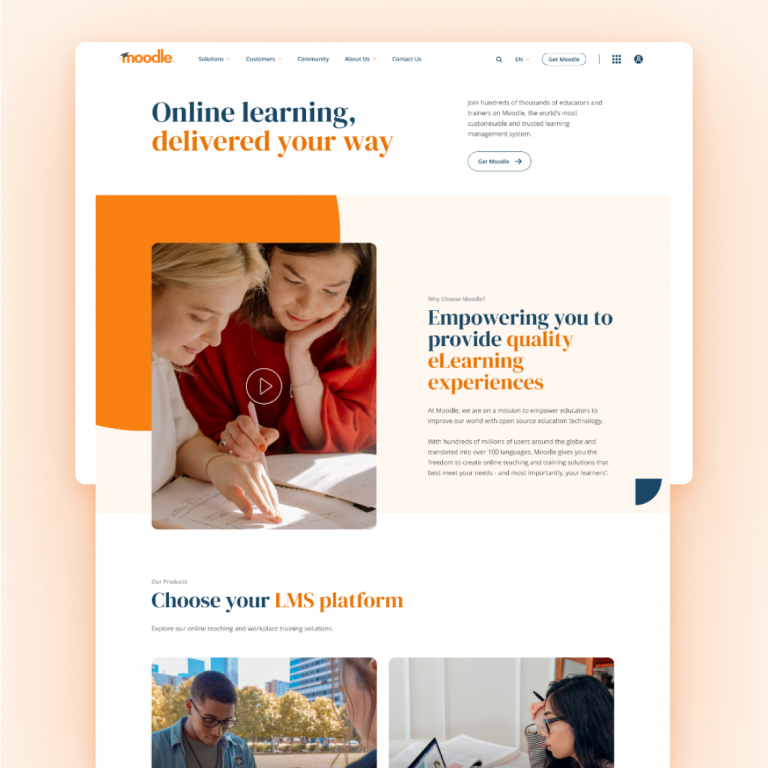 Moodle is the world's most trusted online learning platform, originally founded in Western Australia. The company has grown to be a global organisation, expanding its suite of LMS tools and technical services.
We were briefed to update their website to be more engaging, accessible, and to boost lead generation.
We began by running stakeholder, staff & user research workshops to understand their users, product ecosystem and positioning, and formulate SEO/UX/content recommendations to generate more qualified leads.
Our designer and copywriter worked closely to breathe new life into the website's design and content, based on accessibility and SEO best practices and Moodle's brand guidelines.
Following the site's successful launch, Moodle saw a 33% increase in keyword rankings and a 35% increase in organic form submissions.
Nomination: Dux Digital
Sector: Websites & Digital Marketing
Nominated in: Professional Services Category
Yep, we're including ourselves in here – but in case you missed it, Dux got a brand new shiny website in 2022!
When we built our new website, we also went through a rebrand where we rethought our entire website and approach, and needed to convey the message of "doing good, better" throughout all of our content.
The website is designed and developed to strive for WCAG 2.1 AA compliance, and we are working on the site ongoing to ensure that we make it as accessible for all people as possible.
The team worked together to create a website that presented our brand message clearly; was SEO-optimised; was accessible and had a positive user experience; and was fast and easy to use.
If you're looking for a high-quality website and you're into 'doing good', get in touch with us here to find out how we can help you.
Thriving Futures
Sector: Education, Not-For-Profit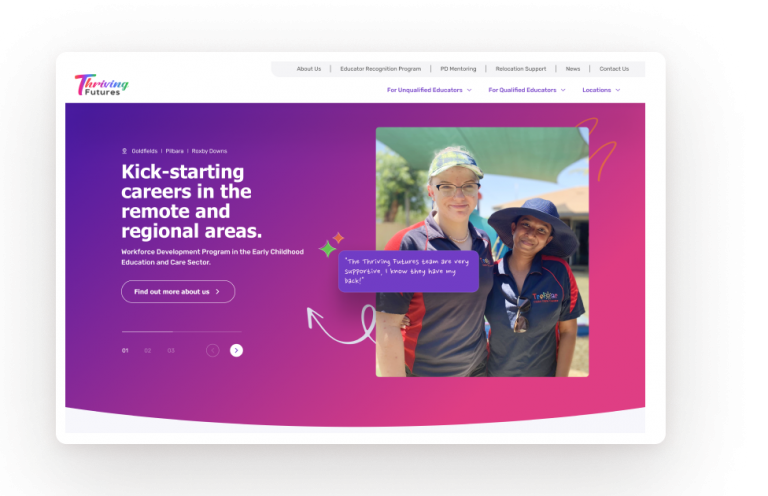 Thriving Futures (TF) is a non-profit organisation who delivers a workforce development program for people starting their careers in Early Childhood Education and Care.
To better promote the program across their three remote locations – the Pilbara, Goldfields, and Roxby Downs – TF needed a new website that would clearly articulate who they are, what they do, the specific services offered in each location, and be easy to manage.
We worked with TF to design and build a WordPress website with a simplified and more accessible navigation and content; intuitive user experience; and fresh UI design based on their new brand visual identity.
The new site also solved significant internal challenges that TF had in adding content to ensure information is always up-to-date.
Even prior to our routine client training sessions, TF were able to jump right in and manage it themselves, helping them save precious time and resources to invest back into their mission.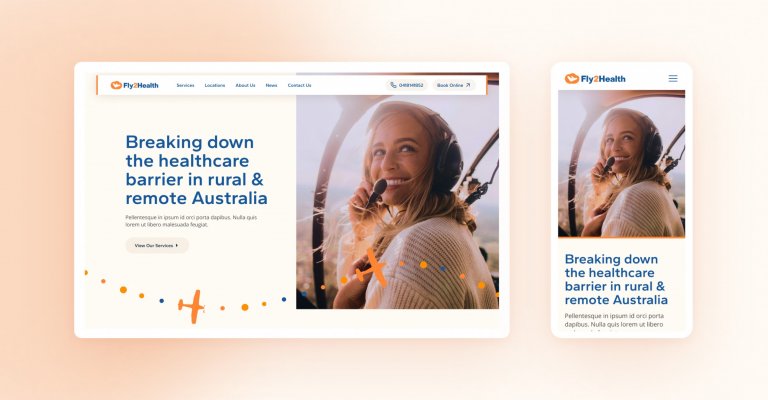 Fly2 Health Group connects underserviced individuals and communities in remote and rural Australia with allied health services.
The Fly2Health website needed to accommodate all users through an accessible, user-friendly experience, prioritising intuitive and user-focused design. From planning, design and development, we followed The Web Content Accessibility Guidelines (WCAG) standards principles to make the website accessible to people with disabilities
The website was designed with not only the WCAG 2.1 AA guidelines as a baseline, but also with SEO in mind and SEO specialists involved in the entire website process.
With sudden awards impending, the client requested that the website be pulled forward so that they could have their new brand out there for the 2022 Telstra Business Awards. Not only did we deliver the website within this timeframe, but we also delivered an exceptionally high-quality and optimised product.